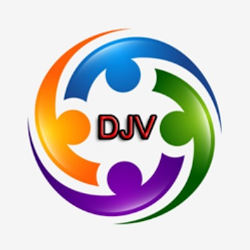 The DejaVu Kodi Addon is one of the best all-in-one addons at the moment. DejaVu comes with sections for movies, TV shows, live sports and live TV. Regarding movies and TV shows there are sections for scrapers and one click video content. The live sports category comes with daily schedules and British, American and international TV channels. On top of that you get 24/7 streams, wrestling and UFC replays and much more content. Read our guide below to find out how to install the DejaVu Kodi Addon.
Make sure to use Real Debrid to make the most out of this powerful addon!
UPDATE: The DejaVu Repository is currently not available! Check out or list of the BEST Kodi addons for working alternatives.
Attention: Protect Your Privacy Online
Please remember that streaming certain video content may be illegal in your country. Protecting your privacy online is becoming more and more important. We suggest you to use a VPN. A VPN encrypts your traffic and stops your provider and other authorities from seeing what you do on the internet.
With a VPN you are also able to change your public IP address to gain access to services which may not be available in your location.
We recommend CyberGhost, a VPN service with the highest security standards, fast download speeds for streaming, 9200 servers located in over 90 countries and the most value for your money. CyberGhost allows you to use up to 7 devices and offers dedicated apps for Amazon Fire TV, Android, Windows, iOS and more platforms.
Click HERE to save more than 80% on CyberGhost VPN.
Kodi-Guide.com is not affiliated with the developers of Kodi addons. We do not have any control over the content of Kodi addons nor do we encourage our readers to exercise any form of copyright infringement.
Screenshots
Sections Overview
4K UHD Movies
Latest Movies Scrapers
Latest Movies One Click
Latest Debrid One Click
Classic Debrid One Click
Classic British Cinema
Kids Movies One Click
TV Shows One Click
TV Shows Scrapers
World TV Channels
Documentaries
The Comedians
WWE/AEW/UFC Replays
Live Sports
Trakt Lists Scrapers
Search
Search History
Last Link Played
Settings
My RD History
How to install DejaVu Kodi Addon
Install Dejavu Repository
You may need to enable unknown sources in your Kodi settings
Go into your Kodi settings and open the file manager
Select "Add source" and click on "None"
Type in the path "https://dejavurepo.github.io/" and select "Done"
Highlight the box underneath and type in a name like "Dejavu" for this media source
Click "OK"
Go back to your main menu and select "Addons" on the left side
Open the addon browser by clicking on the little box symbol at the top left
Select "Install from ZIP file"
Answer the warning message with "Yes"
Open the source "Dejavu" and select the file "repository.DejaVu-x.x.x.zip"
Wait until the notification appears that the repository was installed successfully
If you are not sure how to install a Kodi addon check out our guide with screenshots.
Install DejaVu Kodi Addon
In your addon browser select "Install from repository"
Select the installed "DejaVu Repo"
Open the category "Video addons"
Select DejaVu and click on "Install" on the bottom right
Confirm the installation of the dependencies by selecting "OK"
Wait until the notification appears that the Kodi addon was installed successfully
Return to the main menu and the Kodi addon will be accessible from there
Best Settings for DejaVu Kodi Addon
The DejaVu Kodi Addon is working very well out of the box. However to fine-tune things a little bit you should take a look into the settings and check some values.
Important: The following settings only affect scraped videos! Playlists, one click content and streams will always work the same way.
Open up the DejaVu Kodi Addon, scroll down and click on "Settings".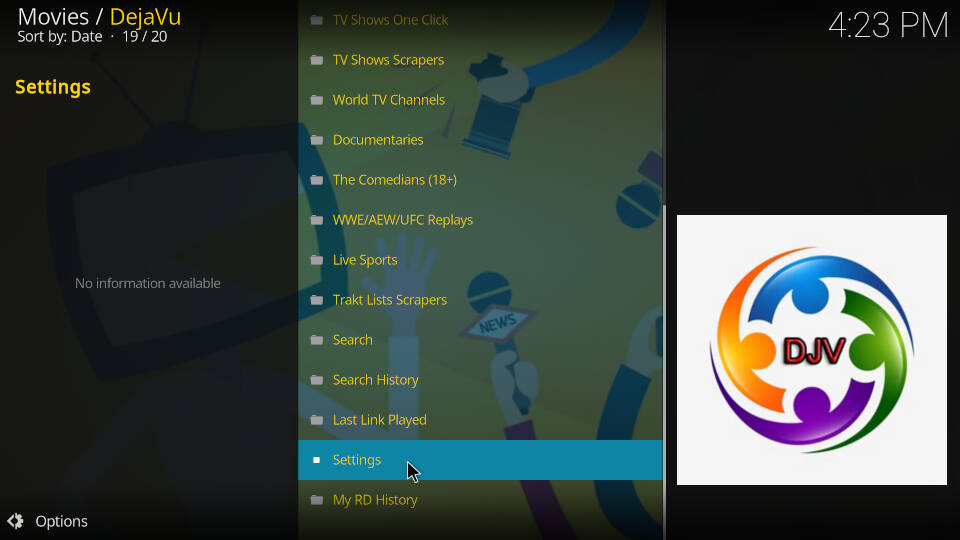 First of all hover the tab "Debrid" and check that your Real Debrid account is connected and authenticated. If you are not sure that's the case simply click on "Re-auth Real-Debrid" and follow the instructions.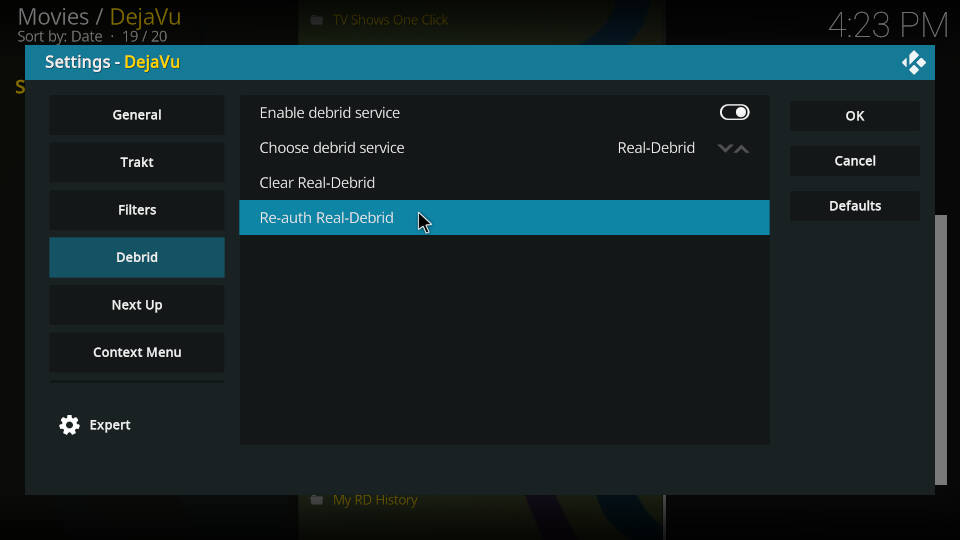 Move over to "General". Look at "Filter out sources more than GB". The default value is 40 GB which means that videos with a bigger file size are not listed in the results.
If you are looking for 3D content, high definition sound and other benefits you may want to increase the value. If you are not interested in that or have limited data volume you want to decrease it a little bit.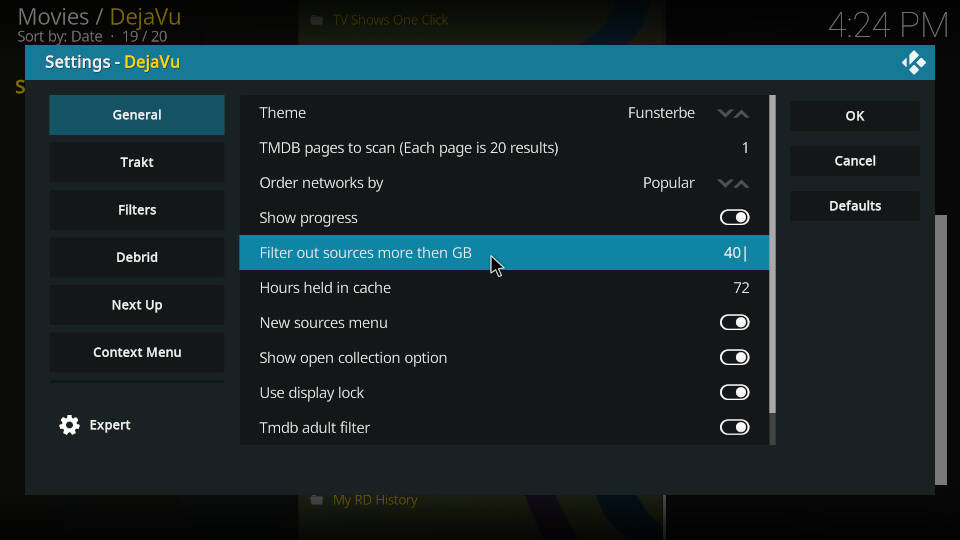 Under "Filters" make sure to choose a "Minimum quality" of 720 for both movies and TV shows. Videos in old standard definition (SD) are not looking that good on large screens.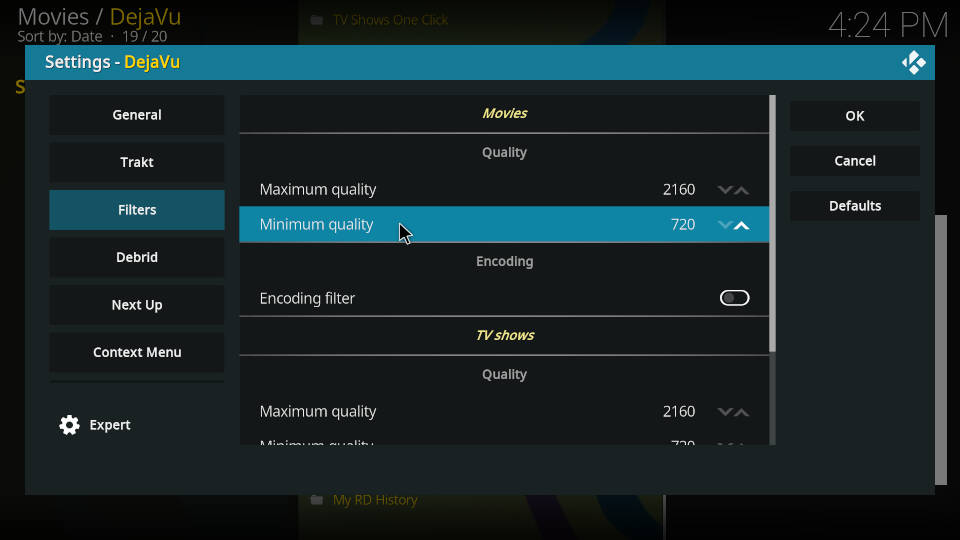 Open up the settings for "Next Up". "Next Up" is very useful when you are binge watching TV shows because at the end of every episode the DejaVu Kodi Addon shows you the next one automatically.
We suggest to enable "Next Up" and set "Auto play if no choice is made" to ON if you don't want to manually start every episode shown in the "Next Up" box. Regarding movies you probably don't want to have the box at the end so set "Next up movie enabled" to OFF.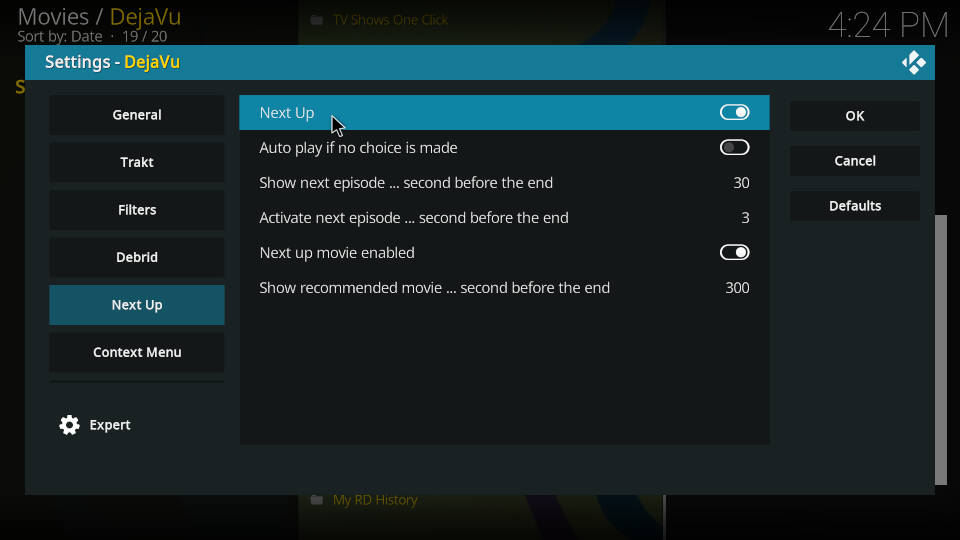 In the "One Click Play" settings section you can enable one click start for scraped video content. This disables the results lists.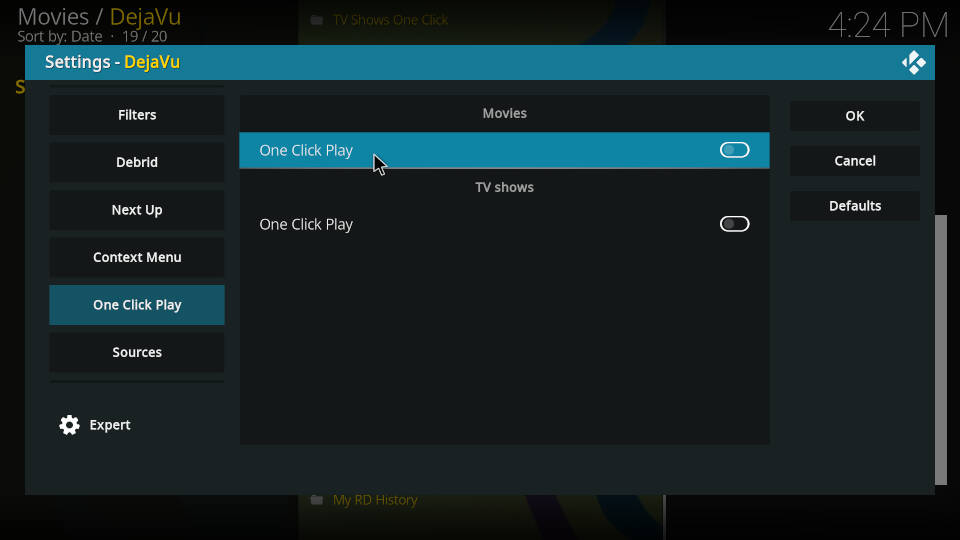 If you want to disable specific sources and scrapers there is a dedicated section in the settings for it called "Soruces". You only want to disable sources if you are 100% sure that the specific sites don't return good results.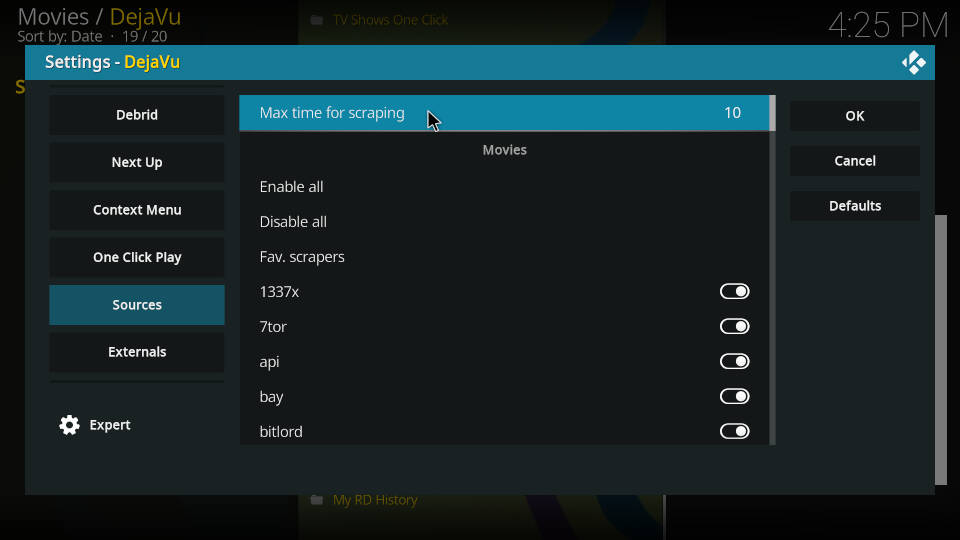 Under the tab "Quality vs. Speed" you can customize the scraper results, e.g. show more information about the video. Remember that this might hit the performance so be careful.